Our Services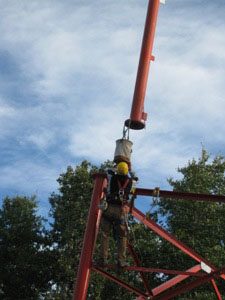 J.W. Project Management offers a wide range of services in the tower and communications industry. We strive to remain up-to-date in technology and safety so you can be assured that your project will receive the highest level of commitment and quality.
Tower Supply (3rd party)
J.W. Project Management obtains towers from third party suppliers. All towers are CSA certified and are engineered to site specifications in order to withstand all types of environmental hazards and antenna loads.
Tower Installation
Due to the inherent danger of tower installation, our crews are trained to safely install towers on a wide range of sites such as gas plants and substations. J.W. Project Management uses cranes or a rooster head and aluminum gin poles to stack smaller installations. For larger installations, we use an engineered gin pole with an 18″ face and double winch methods to stack tower.
Foundation Installation
Screwpile foundations are engineered to tower specifications and are preferred by many customers as they have less environmental impact and less site disturbance occurs during installation. Screwpile foundations are sub-contracted under the direction of J.W. Project Management. If our customers require a cement foundation, we can install them. We are constantly improving our methods of installing concrete foundations.
Antenna and Feeder Installation
Any type of antenna can be installed by J.W. Project Management. We have experience working on everything from small whip antennas to non-directional beacon towers.
Site Clearing
We can clear and level tower sites using sub-contractors. J.W. Project Management tries to use the same sub-contractors for these jobs as they understand what needs to be done and what we expect from them. They are also willing to work under our extensive safety guidelines.
Fencing Repairs and Installation
Tired of people stealing your copper? J.W. Project Management can repair fencing or have new fencing installed to customer specifications. Again, these types of jobs are contracted out to the same company since they understand our expectations.
Radio Shelter Installation and Removal
J.W. Project Management installs radio shelters and will remove the existing shelter if required.
Tower Inspections
Tower inspections are an integral part of our business, In order to keep your towers safe for riggers to climb, towers should be inspected on a regular basis. Major and minor inspections will keep your tower in prime positioning.
Tower Mapping
Our experienced personnel can map towers so customers & engineers can analyze tower loads for any antenna additions and modifications. A full report is provided to the customer.